W10391443 Washer Drain Pump Whirlpool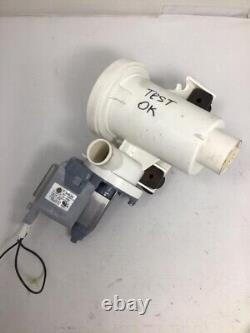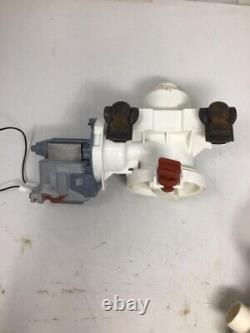 Whirlpool Genuine OEM WPW10391443 Washer Drain Pump. The drain pump removes water from the washer during the drain portion of the cycle. This part works with the following brands: Whirlpool, Roper, Admiral, Maytag, Hardwick, Jenn-Air, Estate, Magic Chef, Crosley, Inglis, Norge, Modern Maid, Amana, Kenmore, KitchenAid, Caloric & Ikea. Will not drain, unusual noises, leaking water, pumps but will not spin, not washing properly. Please Note: This is intended as a guideline only, as other items can cause the same symptoms.
This part is also known as a washing machine drain pump. W10391443 Washer Drain Pump for Whirlpool - Genuine Replacement for Efficient Water Removal.
Enhance the performance of your Whirlpool washer with the W10391443 Washer Drain Pump. This genuine OEM replacement part is expertly designed to efficiently remove water, ensuring that your laundry cycles run smoothly without interruptions.
Efficient Water Removal: The W10391443 drain pump is an essential component that effectively removes water from your Whirlpool washer, allowing your laundry to proceed seamlessly through each cycle. Genuine OEM Quality: Manufactured to meet stringent OEM standards, this drain pump guarantees impeccable compatibility and performance, making it a perfect fit for specific Whirlpool washer models.
Model Compatibility: Engineered for precise compatibility with washers that require W10391443, this pump ensures an easy installation process and reliable functionality. Durable Construction: Crafted from high-quality materials, this pump is built to withstand the demands of daily laundry use, ensuring long-lasting performance. Straightforward Installation: Clear instructions and the necessary hardware are included for a straightforward DIY installation, enhancing convenience.
Keywords: W10391443 Washer Drain Pump, Genuine Replacement Part, Efficient Water Removal, Model Compatibility, Durable Construction, Easy Installation, Appliance Parts, Laundry Efficiency, Appliance Maintenance, OEM Quality. Ensure efficient water removal in your Whirlpool washer with the W10391443 Washer Drain Pump.
Simplify your laundry experience and maintain optimal washer performance. Invest in the quality and durability of this drain pump, backed by OEM excellence.