For Whirlpool, Cabrio Washer Suspension Rod Kit Part # NP9931795PAZ320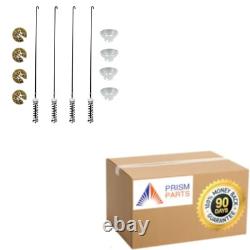 For Whirlpool Washer Suspension Rod Kit Part # NP9931795PAZ320. Fits the following models and some others. Use CTRL F to search for yours.
Not the part you need? You can browse all parts for your appliance by entering ONLY the model number from your appliance on the page linked below. 2DWTW5500XW0 2DWTW5500XW1 3LWTW5550YW0 3LWTW5550YW2 4GWTW4950YW0 4GWTW4950YW1 4GWTW4950YW2 4GWTW5550YW0 4GWTW5550YW1 4GWTW5550YW2 4KWTW4930DQ0 6AWTW5550XW0 6AWTW5550XW1 6AWTW5700XW0 6AWTW5700XW1 7MWTW1750YW0 7MWTW1750YW1 7MWTW1950YW0 7MWTW1950YW1 7MWTW1950YW2 7MWTW1955YW0 7MWTW1955YW1 7MWTW5500XW0 7MWTW5500XW1 7MWTW5500XW2 7MWTW5521BW0 7MWTW5521BW1 7MWTW5550YW0 7MWTW5550YW1 7MWTW5550YW2 7MWTW5560YW0 7MWTW5622BW0 7MWTW5622BW1 7MWTW5700YW0 7MWTW5700YW1 7MWTW5700YW2 7MWTW5722BC0 CAW12444BW0 CAW12444XW0 CAW12444XW1 MVWX600XL0 WTW4900AW0 WTW4950XW0 WTW4950XW1 WTW4950XW2 WTW4950XW3 WTW5500XL0 WTW5500XL1 WTW5500XL2 WTW5500XW0 WTW5500XW1 WTW5500XW2 WTW5500XW3 WTW5550XW0 WTW5550XW1 WTW5550XW2 WTW5550XW3 WTW5600XW0 WTW5600XW1 WTW5600XW2 WTW5600XW3 WTW5610XW0 WTW5610XW1 WTW5610XW2 WTW5610XW3 WTW5640XW0 WTW5640XW1 WTW5640XW2 WTW5640XW3 WTW5700AC0 WTW5700XL0 WTW5700XL1 WTW5700XL2 WTW5700XL3 WTW5700XW0 WTW5700XW1 WTW5700XW2 WTW5700XW3 W10780051 AP5971399 W10317708 4248270 PS11703291 W10257085 W10257086 W10317709 W10748951 W10821943 W11196615.